click below to link:
Therapeutic Massage Helps With... Chronic Pain, Headaches, Lower Back Pain, Upper Back, Neck Pain, Fibromyalgia, Stress & Tension Relief, Migraines, TMJ, Relaxation & Calmness, Depression, Circulation, Accident Rehabilitation, Post-Op Rehab, High Blood Pressure, Range of Motion, Immune System, Insomnia, Sports Injury, Poor Posture, Allergies, Anxiety, Carpal Tunnel Syndrome, Joint Injury, Autism,
Elderly/Geriatric People, Homebound, Pediatric Clients, Sciatica, Oncology Patients, Stretching for Flexibility.
Massage Benefits Section


Natural Products for Personal Care, the Home, and More - Mountainside-Diversified.Com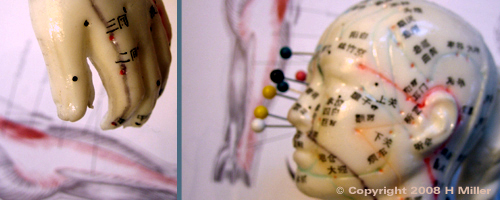 Massage Abstracts / Studies
Index of Scientific Studies proving the efficacy
and effectiveness of Therapeutic Massage
as a healing modality.
Massage Debunkers Debunked!
Some skeptics attempt to debunk
Massage Therapy as a effective treatment.
Here such arguments are addressed.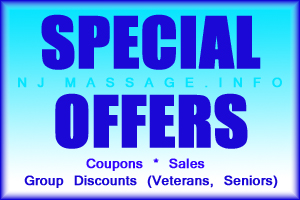 CranioSacral Therapy in New Jersey and New York City
Craniosacral Therapy: Precisely What Is Craniosacral Therapy, Anyway?
Craniosacral Therapy™ is a hands-on modality employed by health care practitioners as an adjunctive alternative therapy, from dentists to massage therapists, physical therapists to nurses. Craniosacral Therapy employs the use of light touch and gentle, barely perceptible movement, such as gliding, rocking, and stretching, and aims to help physical, emotional, cognitive, and/or behavioral issues, and has proven especially helpful for pain conditions. The techniques may be incorporated into a session of massage therapy or dental work, or may be performed on their own, in a dedicated Craniosacral Therapy session.
Developed by John Upledger, D.O., and based on earlier ideas, in part, put forth by Sutherland regarding craniosacral osteopathy, cranio sacral therapy is an interesting technique that often helps clients immeasurably, and will work even if the therapist is unsure of exactly why or how. The craniosacral therapist does not tell the client what to expect, working silently, for the most part.
During a typical session of cranial sacral therapy, the therapist will perform a number of holds and (extremely) light stretches. (The pressure used is about that of a nickel, only five grams!) The client may be in any position, but lying supine (on the back) works best. Craniosacral treatment is often experienced as extremely relaxing, as there is no pain involved, and the releasing of residual tension in fascia and other connective tissue does not hurt, but rather feels rather calming. The client barely feels anything, in terms of pressure, but the results are undeniable. Even cynics and skeptics have found cranio sacral therapy to be effective for a number of client complaints.
Craniosacral Therapy and What's Involved: How Is It Done?
Upledger Craniosacral Therapy may be performed with the client fully clothed. The craniosacral practitioner aims to unlock and reduce residual tensions and contraction of many different parts of the body, such as the pelvic diaphragm, the atlas, otherwise known the first cervical vertebra, the hyoid, and other unlikely areas holding high amounts of tension, but ignored completely by massage and other modalities. Clients often instantly feel a reduction in pain, as a key stretch is performed.
Unlike any modality of massage therapy, the client is focusing on holding the bony projections as anchors for the underlying skeletal frame, whereas a massage therapist works strictly with muscles, fascia, tendons, and ligaments, and avoids massaging the areas where a craniosacral therapist works. Sacral Cranial Therapy focuses on the bones, as well as the connective tissue comprising, and surrounding, the cranium, sacrum, trunk, spinal processes, and the body's various diaphragms.
The Upledger craniosacral therapist employs various techniques to help 'unstick' the motile bones of the skull that are positioned incorrectly, such as those involved in the process of chewing, but also issues with other areas of the body, particularly along the spine, and at the sacrum, as well as adhesions in soft tissue from past traumas, either physical, or emotional.
According to Dr. John Upledger's initial observation, which has been followed up and found to have merit in a number of studies, the entire brain and spinal cord pulse at regular intervals within the dura mater, a barely imperceptible tug that has enough force to vibrate the body ever so slightly, from the toes to the top of the head.
Whether this cranialsacral movement is caused by periodic entrainment by breathing, regulation of cerebrospinal fluid pressure by the fourth ventricle of the brain, as postulated by Upledger, or by some entirely unknown means, the result is that the spinal cord and brain require a minute amount of space to accommodate this pulsation. Olaf Korpiun, PhD considers the cranial-sacral pulse to be in the domain of biological systems and energy-wave interference, a universal pulsation of matter under gravity that is best understood in terms of global scaling.
Further theories of cranio sacral therapy put forth the notion that the cranial suture at the crown of the head is actually capable of movement and accommodation. While this theory is widely disputed in many scientific circles, it should be noted that Upledger and associated did find support for this idea, and the range of motion proposed is only microns, which has also been supported by animal-modeled empirical scientific experiments performed in the 1970s at the Michigan State University College of Osteopathic Medicine.
Regardless of whether the theories behind craniosacral therapy are well understood, or even perfectly accurate models of describing what's happening, the outcomes are unmistakably positive for a high percentage of clients. Craniosacral Therapy Sessions leaves the vast majority receiving cranialsacral treatment feeling more relaxed, in less pain, and refreshed in a way that they have never experienced before. For whatever reason, light touch, administered utilizing the hand and body positions specified by the techniques outlined in the craniosacral system, does something to change a client's body in surprisingly significant ways.
Benefits of Craniosacral Therapy: It Works Even For Skeptics!
Even skeptics have experienced positive change, in our experience, and while they could not accept the reasons set forth by our craniosacral therapists for that change, they could not deny they felt better afterwards. The benefits of craniosacral therapy are numerous, and the technique does not require that the client 'believe or have faith' in the ideas about the system itself.
Clients have reported significant help with TMJ, sciatica, chronic pain, neck aches, migraines and headaches (though most clients thinking they have migraines often have tension headaches of some variety) myofascial pain syndrome, fibromyalgia, anxiety, PTSD, and other conditions that seem less obvious, such as autism, immune dysfunction, and even ADD and ADHD. Craniosacral treatment works to produce calm and relaxation, but craniosacral benefits extend far beyond simple relaxation.
Cranial sacral therapy seems to be especially helpful with the pain conditions mentioned above. Sacral Cranial Therapy, as some refer to the modality, may work on some yet unexplored avenue of healing, such as changes in skin conductivity produced by touch, applied in key areas of the body, possibly reducing persistent tissue rigidity caused by all manner of life events, from emotional stress to falling off a ladder. These events leave residual tension in our bodies, as scarring pulls at surrounding tissues ever so slightly, as does residual emotional tension, such as may be observed (acutely) in most people's shoulders during, and after, a stressful event.
Cranialsacral Therapy for Babies is also widely practiced. Considering that parents oftentimes find measurable improvement, we must conclude that craniosacral therapy for infants, as well as older babies, works because of some underlying principle, that is operating even on clients unaware of the expectation of an outcome, such as is the case in the very young.
Craniosacral Therapy is indicated for a number of conditions, and has been found to be helpful by clients suffering from traumatic brain injury, central nervous system disorders, migraines, tension headaches, chronic pain, neck pain, back pain, emotional issues, motor-coordination impairments, stress disorders, mental tension, tempomandibular joint (TMJ) dysfunctions and pain, orthopedic problems, chronic fatigue, scoliosis, neurovascular disorders, immune disorders, infantile disorders, colic, post-traumatic stress disorder, autism, postsurgical dysfunctions, learning issues, fibromyalgia, connective tissue disorders, and inflammation. (based, in part, on exhibit in text edited by G.J Murrey, PhD, LP, ABPN)

The Upledger Institute, creator of Craniosacral Therapy,
is a member of the IAHE.
The Craniosacral Therapist: The Key is The Upledger Institute
Our cranio sacral therapists are trained by an Upledger-certified instructor, Frank Stahlman, P.T., who was himself trained by John Upledger and Upledger's associates. Craniosacral Therapy has been around for over three decades, and is a great resource for those who are seeking to reduce pain naturally, and deal with their bodies' residual tension levels. Other Cranial sacral Schools exist, but having been trained by an Upledger Institute Cranial sacral Therapist who is associated with the founding research and practitioners is important, in our estimation.
The roots of cranio sacral therapy are firmly established in the osteopathic tradition, so unlike a massage therapy session, the focus will be on the bones and how they interface and align via the connective tissue membranes separating them, as oppose to the soft tissues as is the case during a massage session. The benefits of Craniosacral Therapy overlap somewhat with those of massage therapy modalities, but deal with issues in a totally different manner.
In this regard, cranialsacral therapists also deal with issues that may overlap chiropractic care at times, though the craniosacral system therapy may be viewed as a complement, rather than replacement, to massage, chiropractic care, acupuncture, or even the practice of yoga or weightlifting. We are here dealing with a totally different modality, obviously quite different than anything else performed as a means of health care/preservation or even simply relaxation.
Mountainside On Site Massage Therapy provides on site Craniosacral Therapy, whether it's at your home, office, hotel room, or party venue. We would be happy to discuss this modality with you, either via email or telephone. We actually don't mind if you approach the session skeptically. (We certainly did!) We are not interested in changing what or how you believe. Cranial sacral Therapy is a very different modality that produces very different results. We've always been interested in helping to reduce suffering, and this modality provides a number of important tools as part of that skill set. The fact that not everything is entirely understood about this fascinating modality should not be a deterrent to seeking out treatment, as cranial sacral therapy has proven both safe and effective over the course of the last three decades.
Please click on the '@ Contact Us' button at bottom-left to access our inquiry form, or use the button at the top of this page. Feel free to also call us at 877 480 8038 for more information or to book an appointment.
Cash, PayPal, CashApp, GooglePay, Credit Cards, and Gift Certificates accepted. Insurance plans accepted: County / Municipal Health Care Plans (NJ), Independent Health Flex Fit, Preferred Care, No-Fault with Authorization
Note: We offer *strictly* therapeutic massage therapy. We do *NOT* offer as€nsual u'massage', in any form.